Postcards - Spelling Mistakes Cost Lives
£

1.00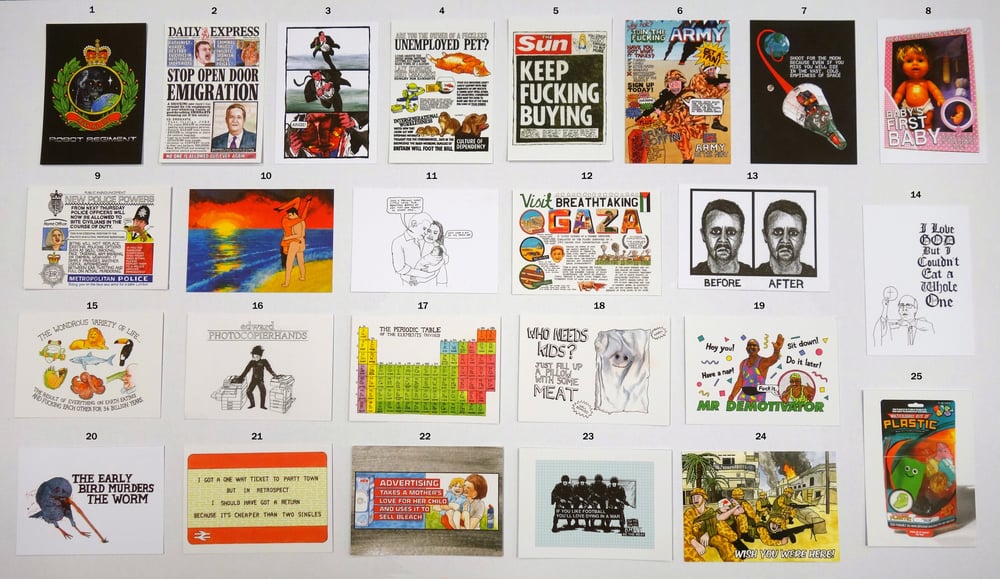 Spelling Mistakes Cost Lives postcards by Darren Cullen
All cards have additional smaller black and white images printed on the other side. On the Baby's First Baby and Multicoloured Bits of Plastic cards these images take up the entire section where you would normally write.
1. Robot Regiment
2. Daily Express: Stop Open Door Emigration
3. Superman
4. Unemployed Pets
5. Keep Fucking Buying
6. Why Not Join the Fucking Army?
7. Shoot for the Moon
8. Baby's First Baby
9. Police Biting
10. Porn Stars Love Each Other Very Much (Sunset)
11. Circumcision
12. Visit Breathtaking Gaza
13. Before/After
14. I Love God But I Couldn't Eat A Whole One
15. Evolution
16. Edward Photocopierhands
17. Periodic Table (Revised)
18. Who Needs Kids? Just Fill a Pillow With Some Meat
19. Mr Demotivator
20. The Early Bird Murders the Worm
21. One Way Ticket to Party Town
22. Advertising
23. If You Like Football...
24. Wish You Were Here!
25. Multicoloured Bits of Plastic
Questions or custom orders welcome.
Thanks
Darren Cullen
www.spellingmistakescostlives.com